I have to confess something.
Have you guys heard of a show called
JERSEYLICIOUS
?
Well, I'm OBSESSED with it. I love it. I don't watch a lot of tv, but I freaking love this stupid, melodramatic, over-the-top show. I have to tell you about it, and damn it, you HAVE to listen!
Oh, don't waa waa at me. I'm not going to bore you to death telling you all about the episodes, or how Tracy spit in Olivia's face out front of Sonic, or how Frankie is trying to win Gigi's heart again...
Wait, you don't give a shit. Oh just be patient for crap's sake.
Okay, karen, so what the hell is this show, you're asking?
What
?!? You haven't heard of it??? You haven't WATCHED IT!?!? Oh, I am weeping. You've been wasting all your time on Jersey Shore, right?
Jerseylicious is an American "docusoap" which follows a group of salon workers around, and is set, obviously, in New Jersey. The girls on the show are CRAMMED with attitude, have NO PROBLEM with self confidence, have many cat fights, always dress like it's Friday night, and wear fantastical, unbelievable, inconceivable amounts of MAKEUP.
No, seriously--it's a
LOT OF MAKEUP
. Check it out:
Olivia
Olivia and Tracy LOATHE each other.
Gigi's boyfriend Frankie
I have to admit it. I find Frankie a little hot. Strangely, because he has a super mobster crunchy ridiculous gel hairdo, but he's got that TAKE IT OR LEAVE IT BAYBEE attitude. Tee hee!
Oh wait...we were talking about makeup...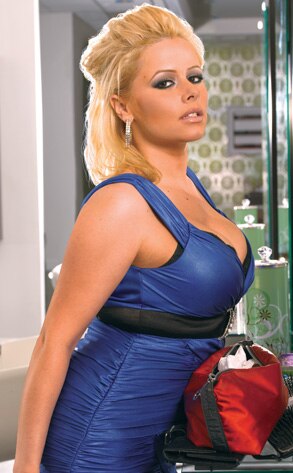 Alexa
Alexa is the salon's makeup artist, or "Glam Fairy" as she calls herself. I think this means that she's like a fairy who comes and throws a SHOVEL FULL OF MAKEUP at your face, and VOILA! YOU ARE GLAMOROUS!
Okay, so there's a bunch of other people on the show, but who gives a shit. You're only going to watch the show if you want to watch it. And you're never going to love it like I do!
In fact, recently my kids went for a sleepover at their grandparents, so The Man and I got to go out for dinner. Blah, blah, that was all very nice. When we got home, I thought to myself: "karen, the only thing that would make this evening more perfect would be if JERSEYLICIOUS was on TV."
And guess what!!! IT WAS! Sniff! I'm going to shed a little tear, the memory is so beautiful. It was even an episode I hadn't yet seen!
Okay, enough of this crap. Let's get to the point shall we? I am FASCINATED by the amount of makeup these young women wear. I have been thinking about it all the time. I mean, I have never worn that much makeup. Even when I was a hooker that time for Hallowe'en, I still never wore that much makeup. How does one even put on that much makeup? What is involved in GETTING THAT MUCH FREAKING MAKEUP ON MY GRILL??!?!?
I had to find out.
So, I decided to do my own Jerseylicious makeover. And I took photies!
You're welcome.
So, here's me with my fuzzy, shapeless, air-dried, squeaky clean hair, and usual amount of makeup, which is: a little bit of foundation to even out blotchy skin, some eyeliner, a bit of eyebrow pencil and...well, looks like that's about it.
Straightened out the lid a bit. I don't think Jerseylicious karen can have
au naturel
hair.
Okay, hair up and out of the way...one last look at my ruddy complexion before I start SPACKLE-ING IT ON.
I have coated my face with some pancake-ish foundation, and as much mineral makeup as I could cram into my pores. If there is one thing I have learned whilst watching them do makeup on the show, it is that any hint of natural skin is BAD. GOT THAT GIRLS? NATURAL SKIN TONE = BAD
You know what they talk about nearly every freaking episode? THE SMOKEY EYE. It's all SMOKEY EYE THIS, AND SMOKEY EYE THAT and OOO DON'T YOU WANT TO HAVE A SEXY, SMOKEY EYE LIKE THIS? Smokey eye is actually code for: "shit ton of black eyeshadow."
Keep cramming on the eye makeup, karen. The picture doesn't show that we added some purple sweeps at the outer corners for a FOXY LOOK
See that? Sexy, right? Like I PUNCHED myself with glamour!
Next: eyebrows weren't HAPPENIN' enough, so I took the brow pencil to them again. Oh, and I added some blush. Then I added some more blush. Then I kept swirling in more and more blush. Then I wondered just how much f*cking blush they put on on the show in order to get that LOOK AT ME, I'M WEARING SOME F*CKING BLUSH look. I think I have achieved that look.
Notice the light coming in to the bathroom at this point? The GODS OF GLAM are smiling down upon me. Is it because I'm wearing SO MUCH FREAKING BLUSH AND EYESHADOW, or is it because I've just lined my lips in a dark-ish lip pencil for maximum sluttay-ness??
Is it just me, or does anyone else think this is starting to look creepy?
Oh goody! I've added some oo-ey goo-ey dewy pale pink lipstick. My lips now feel disgusting. Are you digging my SMOKEY EYES?
AH YEAH. SOMEBODY'S STARTING TO LOOK HAWT IN A SEXY CLOWNY-CLOWN KIND OF WAY. You know you like it.
But wait...that hair is awfully flat. There's not even any hairspray on it. No self-respecting Jersey girl would ever go out with such lank, FLAT hair.
Luckily, I have a solution!
BUMPITS™!!! ARE YOU AS EXCITED AS I AM? HUH? HUH? Oh come ON! Surely you've seen that Bumpits™ commercial, have you not? You know--the girl with the stupid, natural hair goes from DRABULOUS to FABULOUS in minutes! All she has to do is tease her hair and stick the plastic thingy there, smooth the hair over top, and POOF! SHE IS FABULOUS!
Ha ha ha ha...what a stupid product! The only reason I bought it was because it was two bucks at the local dollar store.
See? It's EVERYTHING I need: hair moon thingy, and teasing comb! Who's excited?
SEE THAT? DRABULOUS TO FABULOUS IN MINUTES!
they wear a LOT of jewellery on the show. I mean, they cram that crap on. I had to really root through my jewellery box. Luckily I had kept this bracelet from the 90's. BOO YAH! Is it gaudy enough??? Oh, I also fished out the biggest hoop earrings I own....
Also, that pink MOM HOODY had to go. Yes, it was pink, but it was way too conservative. But...I don't really have any good "BAR clothes", so a tank top with rhinestones on it will have to suffice.
Ta-da! Ignore that bra strap peeking out, and feast your eyes instead on THE FACE.
But wait....the Bumpit™ is good, and all, but something is missing. Something is just not quite DELICIOUS enough.
OH I KNOW WHAT I NEED! FOURTEEN DOLLAR FAKE HAIR! YES! THAT IS THE TICKET!
YES YOU KNOW YOU WANT SOME OF THAT. DO YOU WANT SOME OF THAT? YOU DO, DON'T YOU? JUST ADMIT IT?
I had hair that long once. Sigh. Frowny face.
Oh, it also helps to make some really slutty face. It's the face that makes the men folk take notice!
Here's another stupid face you need to make. It's the "I can't remember where I put my brain down" face. Charming, no?
The "I'm in love with my fourteen dollar hair and I'm in love with ME" face.
The "Everything is SO awesome, I smile with my teeth open!" face.
Wait...this is starting to not be very fun anymore...
I feel like I'm wearing a coat. On my face. I just want to wash this shit off now. I really, really want to wash my face. This was a stupid idea.
oh god. Get this CRAP OFF MY FACE
and there you have it. A solid half hour, and one hell of a lot of makeup.
Look! It's my KARENLICIOUS FACE ALL OVER THE TOILET PAPER!!!
Ah, back to my usual scant amount of makeup. What--you were expecting a completely scrubbed face? Pppft! Are you people INSANE?!? I'M PUSHING FORTY!
Still, I like THIS regular old karen much, much better.
Wasn't that fun?!?